Taste The Floor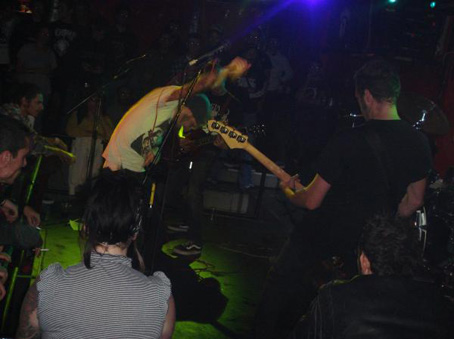 Taste The Floor est un groupe Italien qui nous vient de Rome. Ils jouent un hardcore influencé par des groupes comme Scholastic Deth, Bones Brigade, DS-13, What Happens Next? ou encore Vitamin X. Ils jouent ensemble depuis 2003 et ont déjà enregistré une démo et un Ep 5 titres, "Rules/possibilities". Ces morceaux ont été enregistrés avec un line up différent et les gens définissaient leur style comme proche de Propagandhi, Rise Against, Kid Dynamite, Gorilla Biscuits et Negazione.
  Trois ans après, ils continuent avec un nouveau chanteur, nouveau batteur, un guitariste en moins, et enregistrent leur premier album avec l'intention de jouer plus vite et moins mélodique. Il est composé de onze morceaux et une reprise de Scholastic Deth, Shackle me not!.
  Leurs textes sont principalement basés sur la société, les relations humaines et la scène hardcore. Ils expriment leur opinion sans prétendre détenir la vérité absolue.
  Ils ont partagé les scènes avec des groupes de leur ville (Strength Approach, Anti You, Coloss, Payback, Jet Market), Italiens (Affluente, Death Before Work, Skruigners, Downright, Ouzo, Locked In), et des groupes plus connus comme Vitamin X, The Unseen, Hippycore, At Half Mast, Death Is Not Glamorous. ls prévoient également de faire quelques petites tournes en Europe.
  L'album a été produit par 14 labels: Beggar God Records, Black Records (Canada), ChanMax Records (France), AK Records, Dv's Records (France), Here and now, Kattive Maniere, Lamezia HC Family, Mad.Die Records, Piccole Speranze, Radio Riot, Rimini Hardcore, Rising Riot Records (Germany), World's Appreciated Kitsch (Greece).
Taste The Floor (2009/DVS015)
Tracklist: 1-Less bullshit on songs lyrics/2-Break the time to make you pay/3-Chair and TV/4-30 seconds/5-Take and give/6-The scene and the support/7-Useless playground/8-Freedom through consciousness/9-Identity issue/10-Not a fashion/11-Betonville/12-Shameless/13-Shackle me not!