SWY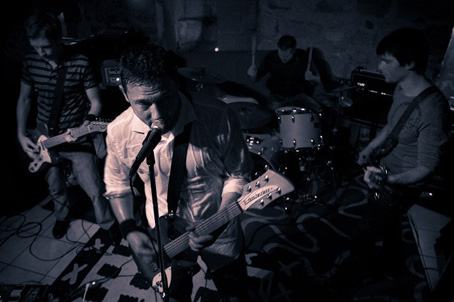 Inclassable, S.W.Y est un quintet rock qui mélange indie rock moderne et sonorités ancrées 80's. Sur scène, les guitares claires et la rythmique omniprésente appuient un chant typé et dynamique. Influencés par des tendances aussi variées que The Clash, Block Party, Interpol, Montée, Foo fighters, The Police, etc… Le combo formé de Bordelais et d'Andernosiens a déjà partagé les planches avec des groupes comme Naive New Beaters, Success, Against me ou The Automators.
SWY (2011)
1.Pics of me/2.Radio clock/3Frozen faces/4.Anytime anywhere/5.Standing more/6.I take it right/7.The end of heroes/8.Spiders for dinner
L'album est disponible à 7€ (8€ pour un envoi postal), si vous en voulez un contactez Gary Berges ou envoyez un mail sur swybooking@gmail.com (pour ceux qui ne connaissent pas Gary par exemple) !!

SWY - How To Create Weapons Of Mass Destruction (2009)
1.The world might be a pucking bag/2.Everybody owns weapons of mass destruction/3.I'm the other man./4.Responsability/5.Not my friends/6.A.F.P/7.When all is said and done, I'm stupid/8.Hi-story of a rape/9.No mind's land

SWY - AFP